The ALL SKAS
This is "The Nuttiest Sound Around"
We are The All – Skas.
A high energy and fun Almeria based 5 piece band bringing the best of British Ska to the South of Spain.
Playing hits from bands such as Madness, Bad Manners, The Specials, The Beat and many more we can't fail to get you moving to "The Rockinest Rock-Steady Beat" of…
The All-Skas.  Excellent music and harmonies. You will not sit still during their shows. .
The Band
Paul Rawlins – Keytar + Lead vocals.
Paul (Keys) has been performing in theatres and venues all over the uk with some of the country's leading tribute acts and it is his pleasure to now be performing in Spain. With roots firmly in the 80s he's looking forward to bringing Ska music to Costa Almeria
Paul Ingman – Guitar + vocals
Paul has extensively gigged with cover bands around the Northern Club scene in the 70s.
Diverse music tastes and inspired by the early Blues musicians.
Loves dancing…… Watch those feet to the rock steady beat… !!!!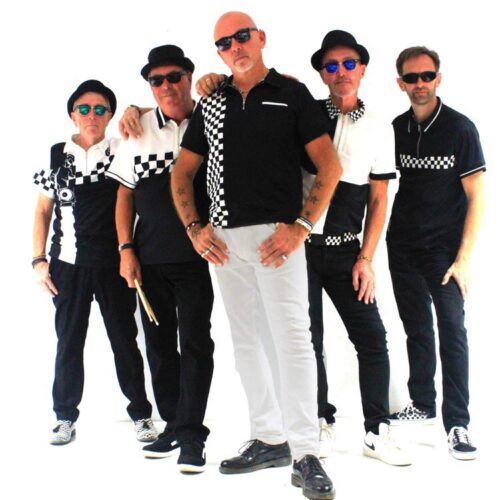 Alfie Waldon  – Bass Guitar + Vocals
Growing up in the 60's Alfie did his first paid gig at the tender age of 12 in 1962. He was signed at the age of 14 to Columbia records and released The Mosaics first single in 1966 https://www.youtube.com/watch?v=5064GKju0gQ . He appeared with The Mosaics at The Marquee, which was then at its original address in Wardour Street. At the time he was the youngest person ever to play this club at 14.
When this band spilt he became a jobbing bass player for a while playing as "dep" for many bands in the London and Essex music scene at clubs such as 100 Club, Studio 51, The Flamingo and the Cooks Ferry Inn. This grounding in thinking on his feet paid dividends later on.
In 1967 along with Steve Webb and Ronnie Brace he formed the Cult Band called SWARB, which soon had great success in UK performing Blues and Rock. Although never signed to a record label SWAWRB was signed by Asgard Agency. This was more great experience touring with other Asgard acts such as Deep Purple and Hawkwind. After a serious accident Ronnie was replaced by Kevin O'Brien as drummer.
After the demise of SWAWRB Alfie, teamed with his guitarist brother David formed a Prog Rock band called Poser. Playing mainly original material in the style of YES and Genesis this 5 piece band fronted by Bill Cox (Sax and Vocals) went on to play many great venues.
The next band, that also included Bill as front man was Jackdaw. Playing American Rock and Blues in the style of Doobie Brothers and Steely Dan Alfie spent a great time and earning more experience touring UK.
In the 70's there was a fun collaboration with longtime friend John Richardson (of Rubettes fame). This involved recording and harmony arrangement. John's brother Ian, also a fine drummer played in several of Alfie's bands. John and Alfie recorded for a BBC documentary part of John's Indian musical The Ramayana. A huge privilege and one never forgotten.
After some 57 years treading the boards as vocalist, bass player and guitarist Alfie now has the most fun he has ever had in a band playing with his great pals Pablo (Paul), Paulo (Paul), Tim and Brian in the All Skas. Long may it continue.
Brian Smith – Drums + vocals
Brian had gigged his kit extensively throughout the Northwest of UK over many years and in many popular bands
Playing mostly in 60's and Rock covers groups whilst also doing sessions at 10cc's and Roy Wood's recording studios.
Tim Ridgway – Saxophone + vocals
Tim has been playing saxophone on and off since he was 11 years old. He spent his youth playing sax in a blues band before taking on various jazz bands when he went to university. Though the All-Skas, Tim is thrilled to be able to be back in the spotlight with his horn.
Call 0034 634333387 for bookings and more information